CULINARY VACATIONS
As a foodie and a travel agent, I am delighted to be able to offer luxury, tailor-made food tour culinary vacations for the independent travellers, a group of friends, Singapore expats, or cruise passengers, who want to discover and taste Singapore's culinary secrets in style. Enquire now for your unique Singapore food tour itinerary.
WOK 'N' STROLL EXPERIENCE
For the food lover, the world business centre and cultural melting pot of Singapore is a gastronomic paradise – a place where culinary adventures are waiting to begin.
This small country may be a dot on the map, but it has more culinary delights to offer than a nation ten times its size.
If you're a fervent foodie, there is so much to explore – but you don't have to do it alone.
Join me and my team on a mouth-watering food tour of taste, discovering the rich and spicy flavours of local dishes, or treat yourself to a tailor-made weekend dedicated to food exploration; from Singapore cooking classes with an expert local chef – to learn the traditional delights of my grandmother's recipes.
CULTURAL PRIVATE TOUR
This is a great experience for cruise passengers and transit travellers visiting singapore for few hours.
Enjoy a cultural and culinary adventure exploring the ethnic quarters of Singapore.
• This is a combination of a few of our best-selling tours during which you will experience
Chinatown off the beaten track
The Malay quarter
Little India
This combination of tours will show you some of the best culinary delights Singapore has to offer.
The tour will last 5 hours (half day tour) and by the end of this tour, you will have tried some of the best food that Singapore has to offer and give you a fun and private adventure in local neighbourhoods.
You will have an insider foodie available to you who will guide you through the best culinary experiences in Singapore.
The tour includes a personal guidance, local food breakfast and lunch and private transportation.
Tour Duration: 5 hours.
Costs: 550 SGD including the guiding, local breakfast and lunch at the markets Hawker centers.
Private Transportation fee is 250 SGD for half day. The total cost will be 800 SGD.
The price Is for Minimum 1 pax Maximum 5 pax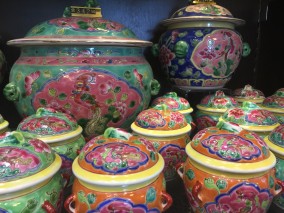 A VACATION FOR FOODIES
As a foodie myself I know what will excite you, whether it's tasting your way through five-star restaurants; enjoying a hands-on private cooking class or getting together with the celebrity chef you have always wanted to meet.
Explore the luxury side of Singapore – just name your date and I will arrange the rest.
Please send us an email with the date of arrival, how many people and what do you want to see during your vacation and we will send you a tailor-made Singapore food tour itinerary!