Cooking in Corona Days- With Karni Tomer Food Thai coconut soup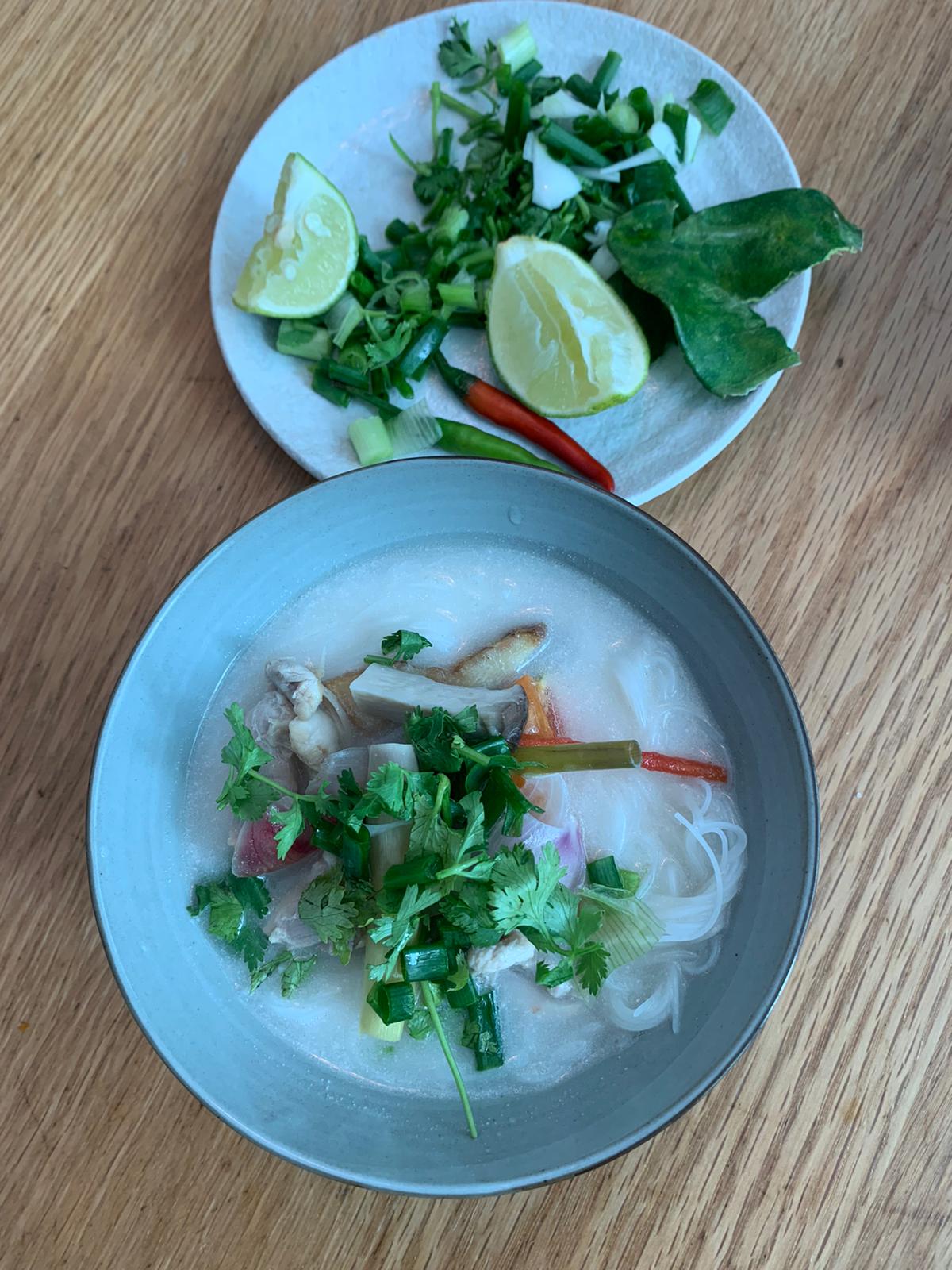 Cooking in the days of Corona
Hi, I'm Karni Tomer Food Explorer,
Food explorer and owner of a food tours company in Singapore.
I have lived in Singapore for over 10 years, and the thing I love most is eating.
And to cook, to bake and especially to indulge in food.
In Singapore, the Corona sneaked into our lives in late January at the height of the Chinese New Year celebrations.
We went through very stressful days accompanied by loss of income, fear of the unknown, psychosomatic illnesses and daily counts of patients.
Today the situation is under control but the virus has not disappeared. In the meantime, I am sad to see how the virus has spread to the world and to Israel in particular.
In my opinion, the best therapy is food.
Cooking and feeding you is the best gift I can give you.
Every day, I will publish a Western or Asian recipe that will delight your heart and inspire you to cook at home.
pe to see you on better days,
Karni Tomer Food Explorer – Singapore
www.woknstroll.com.sg
Thai chicken soup with coconut milk and herbs – Tom Kha Gai:
Singapore is two hours away from Bangkok and half an hour from the Thai islands.
The best feeling is when you jump into the most delicious soup and curry country in the world and enjoy all the wonderful flavors of Thai cuisine.
These days, you can hardly get out of the house so why don't you make a bowl of hearty soup that will take you to a virtual tour in Thailand.

The ingredients for the soup:
100 grams of chicken breast/thigh cut into bite-size pieces
2-3 pieces of Galangal.  If there is no fresh Galangal, you can use dry Galangal.
2 cups of coconut milk OR one and a half cups of coconut cream with half a cup of cold water
2-3 leaves of kefir lime
One stick of Lemon Grass
2-3 tablespoons of lime juice
Crushed red and green chilis. Note that this soup should not be too spicy
2 tablespoons of fish sauce – if this ingredient is unavailable for you, use soy sauce for some saltiness
A teaspoon of palm sugar or brown sugar
Onion cut into 8 pieces
Tomato cut into 8 pieces
Mushrooms (any kind is ok, e.g Oyster Mushroom)
Coriander and chopped green onion for garnish
Preparation of the soup
Boil a glass of water in a pot (or chicken stock)
Add the coconut milk and then reduce the heat
Add the chicken pieces and cook for 5 minutes
Add the Kefir Lime, Lemon Grass, and Galangal
When the chicken is cooked add the palm sugar, fish sauce and chili
Add the tomatoes and onions
Add the lime juice
Adjust the flavors accordingly by adding more salt, fish sauce, sugar or lemon. Thai cuisine involves a balance of its main flavors: salty, spicy , sweet and sour.
Serve the soup hot with chopped coriander and green onion
I hope you enjoy and I wish you a good day,
Karni Tomer Food Explorer
You are welcome to follow me on;
Facebook: https://www.facebook.com/singaporefoodtours/
https://www.facebook.com/groups/FoodiesinAsia
Instagram: @woknstroll @foodiesinasia
Linkedin: Karni Tomer