Cooking in Corona Days With Karni Tomer Food Explorer Lentils, Bulgar Majadara and Goldies Gluten Free Bagels
Cooking in Corona times
Hi, I'm Karni Tomer Food Explorer,
I am a Food researcher and owner of Wok'n'Stroll – culinary adventures in Singapore.
You can read more about my personal story here
In Singapore, the Corona sneaked into our lives at the end of January  (the height of Chinese New Year celebrations).
We went through very stressful days, loss of income, fear of the unknown, psychosomatic illnesses and daily counts of sick people.
Today the situation is under control in Singapore, but the virus has not disappeared. In the meantime, I am sad to see how the virus has spread to the world and to my home country.
For me, the best therapy is food.
I love to cook and feed my family.
Every day I will write a Western or Asian recipe that will delight your heart and inspire you while you are isolated at home.
Hope to see you on better days here in Singapore.
Karni Tomer Food Explorer – Singapore
Today I prepared two recipes for the beginning of the week.
Majadra is a great recipe to make using dry ingredients in your isolation pantry.
Lentils and Bulgar Majadara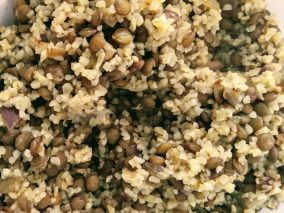 Ingredients
1 cup Green or black lentils
1.5 cup Thick Bulgar
Two chopped onions, one thinly sliced, one chopped – fried in olive oil
Salt and pepper
Cumin or other middle eastern spices that you like
Soak the Bulgar in lukewarm water for twenty minutes
Cook the green or black lentils until they are almost  cooked.
Boil the Bulgar for about 10 minutes and after most of the water is absorbed and evaporated, add the lentils and continue to cook until the water is absorbed and the bulgur is cooked.
Add fried chopped onions and cook together for another 2-3 minutes. Season with salt and pepper. For cumin lovers, add half a teaspoon. I prefer my cumin in Indian food.
Transfer to a bowl and mix with crispy fried onion slices.
Fix seasoning and serve with meat, yogurt, salad or just eat from the bowl while it's warm.
Goldie's bagel – Gluten Free
And for the gluten free foodies, people of character and restraint, this recipe is for you.
My son enjoys it with smoked salmon, cream cheese and avocado but on isolation days, you can enjoy it as is
Ingredients
1.5 cups grated mozzarella / Edam or cheddar cheese
2 tablespoons cream cheese
Himalayan salt
2 cups almond flour
1 egg
one and a half teaspoon baking powder
Melt the cheeses in the microwave for 40 seconds until the cheese has melted
Transfer the cheeses to a bowl and add:
2 cups almond flour
1 egg
one and a half teaspoon baking powder
Mix everything together until dough is obtained (If the dough is still sticky add a little almond flour).
4.Create a bagel shape (or short sticks). If necessary, slightly wet your hands.
5.Sprinkle with Za'atar, Sesame, Coarse Salt or any treat that comes to your mind.
6.Bake at 170 degrees for about 15-20 minutes
Enjoy and if you have any question please contact me:
Facebook: WOK 'n' STROLL-Culinary Adventures in Singapore
Instagram: @woknstroll @foodiesinasia
Linkedin: Karni Tomer