Cooking in Corona days with Karni Tomer- Food Explorer Palak Paneer and Naan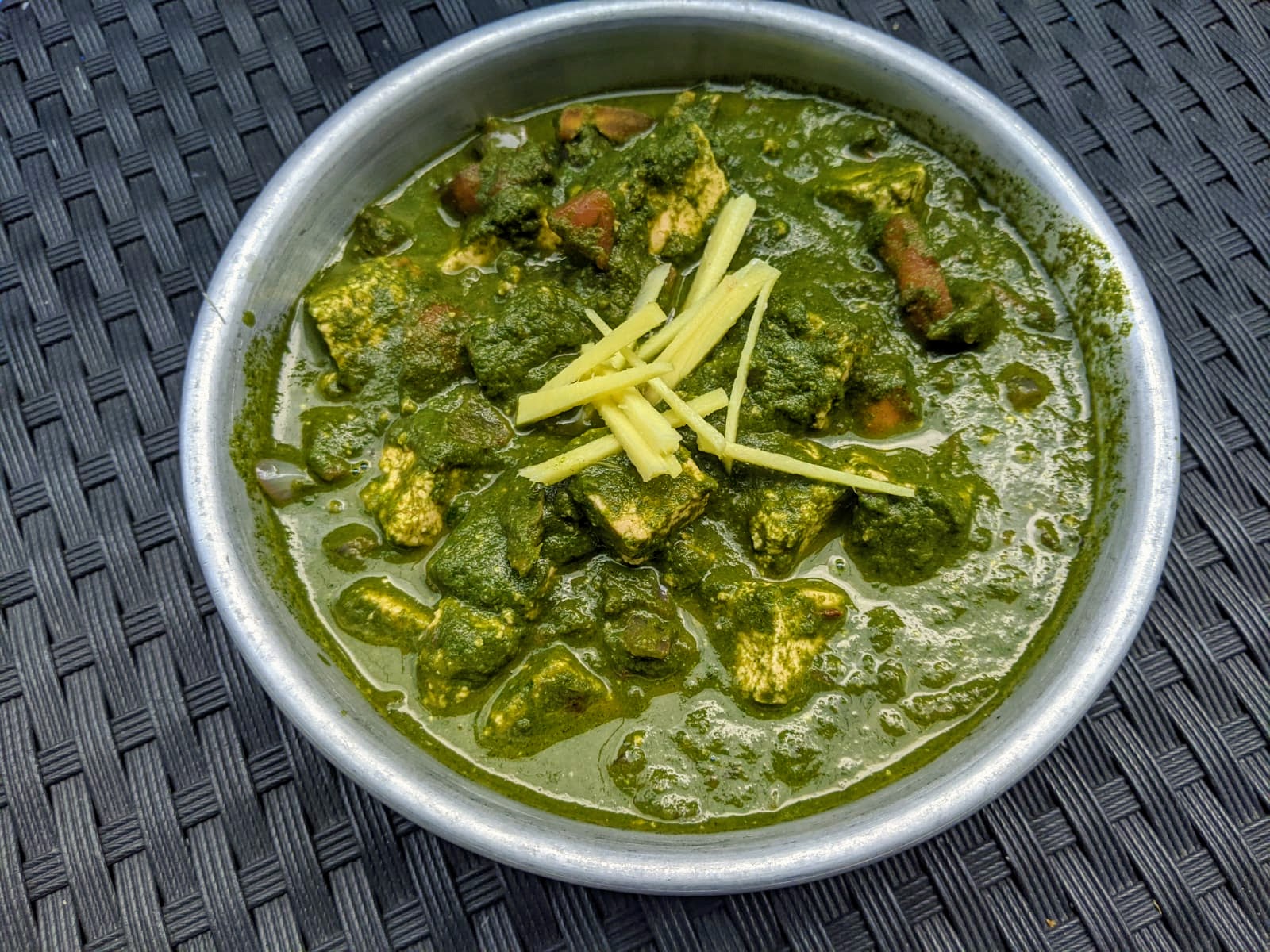 Palak Paneer -one of the amazing Indian dish loved by vegetarian and vegetables lovers. A perfect combination of Spinach and Paneer cheese. And a bonus – a perfect recipe for Naan with garlic and butter.
Ingredients for the Paneer
2 litres of milk (UHT milk also does the job)
200 grams of plain yogurt
Lemon juice (of an entire lemon)
2 tablespoons of coarse/regular salt
Preparing the Paneer
Lightly boil the milk
When boiled (not bubbling however), add the yogurt and stir
Keep Stirring and When the milk is boiling again but not bubbling, Add the lemon juice and stir.
At this point, small chunks of cheese will begin to form which will separate from the liquid
Continue to gently cook the milk. Add the salt.
A few minutes later, remove from fire and pour mixture into cheese cloth on top of  a sieve.
Remove the liquid from the mixture using the sieve, and put the cheese cloth under pressure (from a weight) for an hour.
The cheese can be used at that moment or the day after.
You can also use Haloumi cheese for this recipe and for a vegan dish, use firm tofu.
To prepare the spinach (Palak) part of this dish, prepare the following ingredients:
3 cups of fresh spinach washed
 1-2 green chilli without its seeds (this dish is not meant to be too spicy)
1 Chopped onion
A spoon of chopped ginger
A spoon of chopped garlic
Chopped tomato
A teaspoon of cumin seeds (or half a teaspoon of cumin powder)
Half a teaspoon of turmeric
Half a teaspoon of Garam Masala (if unavailable, you can put a pinch of cumin, cinnamon, cloves and pepper powder)
Salt and pepper
Preparing the Spinach:
Cook the spinach for 2-3 minutes in boiling water and transfer to a bowl with ice water, in order to preserve the green colour and strain
Fry the onion with the pepper until golden.
Grind the spinach with the fried onion and chili  in a food processor (or Ninja) until a smooth mash-like texture is attained. Make sure to add a few tablespoons of water to help the grinding procedure.
Fry the cumin seeds in the oil until they start to crackle, add the garlic and ginger then mix.
Add the tomato and cook for a while
Add the spinach and spices and, if needed, add some  water.
Add the Paneer cheese cubes and Cook for a few more minutes
Serve with some ginger sticks.
How to prepare the Garlic Naan
ingredients :
2-3 cups of plain flour
2 tsp sugar
1 spoon salt
half cup milk
half cup yogurt 
3/4 tsp baking powder
2 tsp oil
Mix all the dry ingrideins and stary adding the liquides. form a nice and non sticky dough. if you need , add more flour.
let the dough rest for 20 minute.
roll each ball to a shape of a flat bread,
use a pan to grill the Naan , no need to use oil. fry from one side to another until the Naan will have some bubbles.
I try to burn a bit the naan on open flame as you can see in this video :
brush with melted butter, chopped garlic and some chopped cilantro.
Much love,
Karni Tomer – Food Explorer